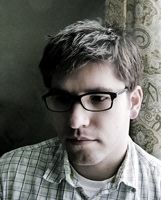 "What I want and have as my aim is infernally difficult to achieve, and yet I don't think I am raising my sights too high. I want to make drawings that touch some people."
"What I want to express, in both figure and landscape, isn't anything sentimental or melancholy, but deep anguish. In short, I want to get to the point where people say of my work: that man feels deeply, that man feels keenly. In spite of my so-called coarseness – do you understand? – perhaps even because of it. It seems pretentious to speak this way now, but that is the reason why I want to put all my energies into it." ~ Vincent Van Gogh
I am a graduate of the Kansas City Art Institute's illustration program and my passion for illustration is always growing. I am so in awe  of the design and draftsmanship of
Herb Tauss
, the ideation of
Sterling Hundley
, the design and drawing of
Gary Kelley
,
Casey Baugh
's subtle charcoal portraits, the quiet atmospheric paintings of
Vilhelm Hammershøi
and
Charlie Hunter
and
Greg Ruth
's rich black and white brushwork, as well as many others.
I am a Jesus lover and am married to Trisha, the most amazing woman and my best friend. My son Ethan teaches me so much about seeing the world with awe and creativity. Our youngest Emma teaches me how to have fun, she keeps us on our toes and is full of spunk.

A bit about my process. After some imagining and thumbnailing the settled-upon idea is worked in Photoshop with whatever photo reference I can either find or create. The Photoshop image is the basis for my final drawing. Starting with a gestural drawing to get the composition and character nailed down, I then add color using loose watercolor. The finish is accomplished using charcoal over the watercolor. I love to get my hands messy. 

I would love to hear from you if I can help with a project.
Jeremiah 33:3